Stay on track with degree requirements and study ABROAD!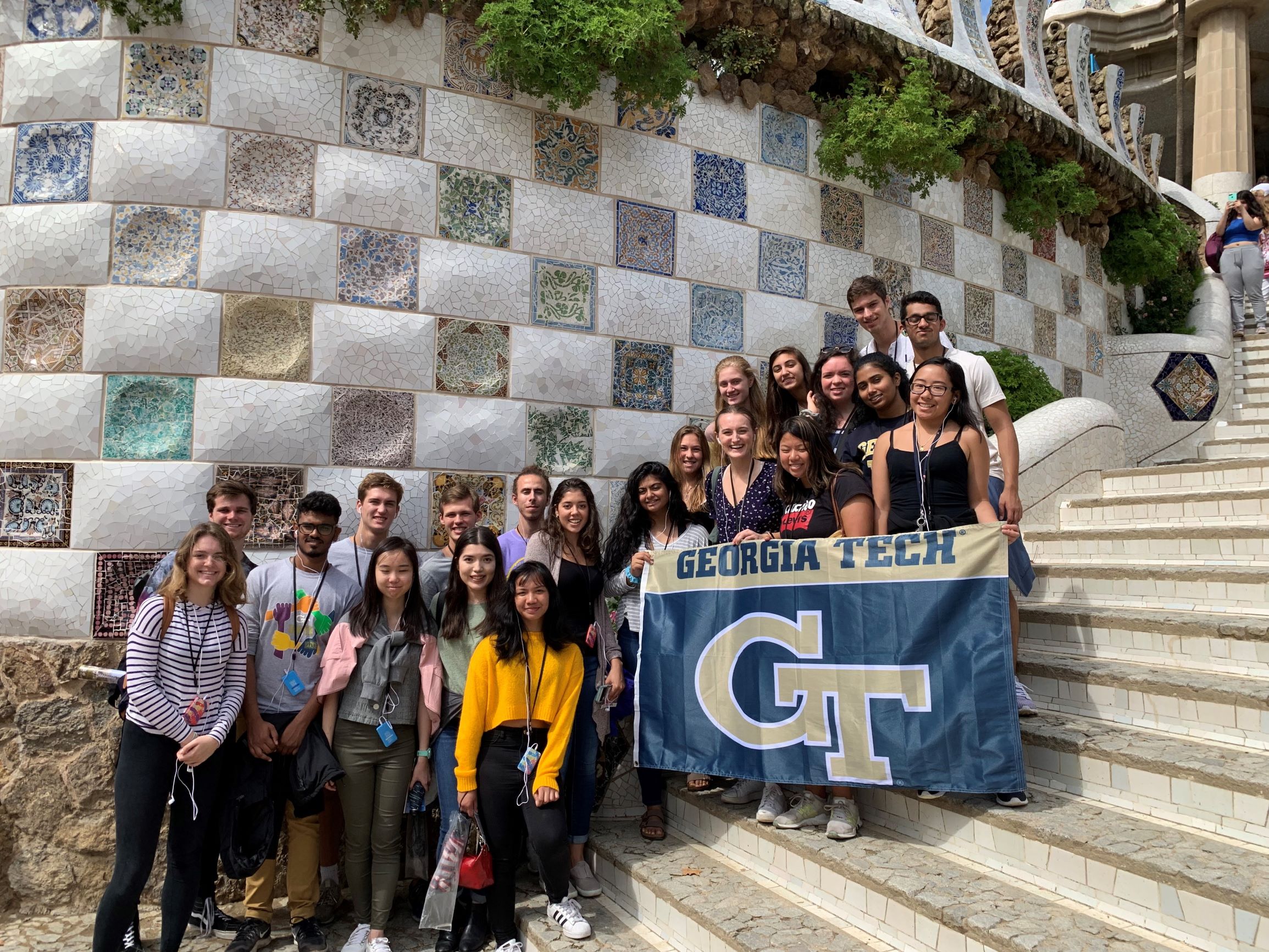 Interested in studying in the neighborhood of Picasso, Dali, Gaudí, Miró and Lewandowski ? The Barcelona Fall Study Abroad Program is designed for undergraduates seeking to immerse themselves in STEM courses and Spanish culture as part of a study abroad program.  Students attend small classes (~10-20 GT students) under the supervision of Georgia Tech faculty as part of this 12-week program.  Tentative program dates are Monday, August 28, 2023 (depart from USA for Spain) through Wednesday, November 22,2023 (housing checkout and return to USA) . Program-related excursions include visits to Catalan/Spanish cultural sites, local scientific industry, research centers and participation in social and professional development activities with local students and faculty while residing on the Universitat Autonoma de Barcelona campus. 
Tentative Courses for Fall Semester 2023:  On-site courses will be offered in approximately two six week periods. Two courses (which span the full semester) are also available.  Students typically register for 12-14 credits from the below courses as part of this Georgia Techfaculty led study abroad program.   Students are encouraged to balance their academic load between the first half and second half of the program (i.e. 6-7 credits in the first half and 6-7 credits in the second half).
Course offerings in the first half of program (first 6 weeks).
CHEM 1315-Survey of Organic Chemistry (3 credits)

CHEM 2311-Organic Chemistry I (3 credits)

MATH 2551-Multivariable Calculus (4 credits) 

SPAN 3064-Medical Spanish (3 credits)-a portion of this course will be taught sync. online
Course offerings in the second half of program (second 6 weeks). 
APPH 1040- Health (2 credits)

CHEM 3521 (formerly known as CHEM 4511)-Biochemistry I (3 credits)  Note: Students enrolled in CHEM 1315 or 2311 in the first six weeks, or prior to the start of the semester, are allowed to register for CHEM 3521.CHEM 3521 students are also required to enrolled in CHEM 4801

CHEM 4801-Special Topics Biochemistry (1 credit)-Origins of Life,

MSE 2001- Principles and Applications of Engineering Materials (3 credits)

COE 2001-Statics + COE 

2801-Special Problems-Statics (3 credits)
Courses* that span the full semester via a full or partial online synchonous format:
PSYC 2103-Human Development (3 credits)*, (partial online format)

BIOS 3753- Human Anatomy Lecture (3 credits)*,  (partial online 

format)

PHYS 2211-Introductory Physics I (4 credits)*,  (full online 

format)

PHYS 2212-Introductory Physics II (4 credits)*,  (full online 

format)
*Students may elect to enroll in courses which  will span the full 16-week full term.  Since lectures and assignments will be online, you are NOT required to attend lectures on the GT-Atlanta campus before and after travelling to Barcelona.
Estimate of Program Costs:  The program fee is applied housing, program excursions, a few meals, and instructional costs.  Participants will be responsible for his/her airfare, tuition (equivent to in-state rates for all participants) and fees, and most meals. For an estimate of entire program costs, please see the GT Office of International-Barcelona Fall program description.  Applicants are also encouraged to apply for OIE scholarships. For in-state students, Hope and Zell Miller scholarships may be applied towards tuition costs. 
Cancellation policy: Georgia Tech reserves the right to alter or cancel this program due to low enrollment, unavailability of a professor to teach a planned course, or other unforeseen circumstances. If Georgia Tech cancels the entire program before departure for reasons within its control, all fees paid by participants will be refunded. If Georgia Tech cancels the program before departure or while the program is in progress for reasons beyond its control, such as political unrest or danger to participants' safety, only those fees that Georgia Tech is able to have refunded by service providers will be returned to participants. 
APPLY NOW FOR BARCELONA FALL 2023! 
Transient undergraduates are welcome to apply to the program. Note: Students with a conditional offer of admission via the GT Arts and Sciences Transfer Pathway program should apply as a transient student until a final decision has been determined on admission to Georgia Tech as a degree-seeking student. Acceptance to this study abroad program as a transient student has no bearing on acceptance for admission to Georgia Tech via the GT Arts & Sciences and Pathway program.  
Other GT faculty led study abroad programs in the College of Sciences at Georgia Tech include: